We  have SAME DAY SERVICE for TV mounting services all over Melbourne.
TV mounting prices from:
$150 if you supply your own bracket
$250 if we supply the bracket
We accept Visa & Mastercard

Right across Melbourne, we specialise in TV wall mounts of ALL types and sizes of TV's, including LED, OLED, QLED, etc.
We combine leading edge product expertise with the latest technology and creative, customised support. Melbourne Antenna Services provides you with the solution to meet the specific needs of your home or business.
Detail is everything, so ALL CABLES will be professionally HIDDEN in your wall cavity so there will be no unsightly cords to worry about.
What you get
Installation of TV onto your wall (including bracket if required)
Run ALL cabling through the cavity of your wall for ALL devices
No unsightly messy cords
Connect ALL your devices – NO LIMIT – as many as you can fit
Tune in TV and anything else that is connected
Show you how to use it
Clean up after we're finished
100% money back guarantee
10 year warranty – click here for more details
Additional services to consider
Install a new Digital Antenna to optimise your picture quality
Put that Extra TV point in your bedroom
Improve your picture by having an Amplifier / booster installed – usually recommended for residences with 4 or more TV outlets/ points
Why take the risk?
Let the professionals install your TV on the wall with all cables concealed
Melbourne Antenna Services specialise in a range of quality TV Wall Mounting brackets and Installations. Our highly qualified professional technicians have a range of TV Wall Mounting solutions for any size TV installed to suit your requirements..
Our TV Wall Mounting service is owner operated.  This means no waiting on a call back – you will speak directly with the owner of the business when you call.
Screens larger than 32inch are too heavy to be fitted to a plasterboard wall without any reinforcement. Our experienced and professional TV Wall Mounting installers are able to mount any size screen to just about any wall. Fixing of screen brackets requires extreme care and the correct fixings, to ensure your screen stays on the wall. Let us, the TV Wall Mounting professionals, mount it correctly and have peace of mind knowing it's been professionally installed.
We advise, supply and install all your visual requirements for TV Wall mounting including LED, OLED, and QLED TV's. We can also supply a suitable high quality slimline TV wall mount bracket for all types and sizes of TV Wall Mounting or alternatively, you can purchase your own bracket for us to install for you. We give you the best advice on how to set up for High definition broadcasts ensuring you enjoy the benefits HD TV has to offer.
What TV bracket should I choose?
These are examples of the 3 most popular types of brackets that are generally used for TV wall mounting.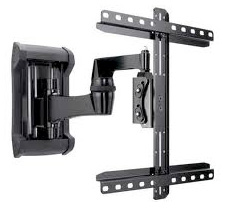 Full motion swing arm TV bracket
This bracket is fully adjustable. It will move left, right, up and down and has a full range of motion.
Tilt TV bracket
This bracket can tilt down or up. We do not really recommend using a bracket like this unless you have no other option as it can make your picture look distorted. The best way to mount a TV is at eye level when you are sitting down so not really recommended unless you are planning to mount the TV high on the wall.
Fixed TV wall bracket
This basically means that it cannot move up, down, left or right and is not adjustable. This is the perfect type of bracket to use to mount your TV at eye level to give you the optimum viewing position.
Due to the various number of TV brands and sizes, we sometimes recommend when you purchase your TV that you ask what TV bracket would suit your TV and purchase it with your TV. Melbourne Antenna Services is happy to install the bracket you provide to any wall you request.
If you would prefer – we would also be happy to supply a suitable bracket and we offer expert advice on what bracket would be suitable for your TV.
Melbourne Antenna Services will take on any Installation project whether large or small.  From installing a new Digital TV Antenna to wall mounting your digital television, adding extra TV points  to large commercial jobs, we can bring you a clearer picture.
Our professional technicians are experienced in the TV Wall Mounting of Plasma TV, LCD TV and LED TV screens. Established in 1995, we have over 20 years of experience in the business and our expert advice will guarantee the right solution for you..
Contact us to install your Plasma, LCD or LED TV today anywhere in Melbourne.
Melbourne Antenna Services will provide you with honest and professional advice for ALL Antenna Installation Services throughout all Melbourne suburbs
FREEVIEW
Digital TV Antenna Installation
Antenna Sales – Matchmaster / Digimatch
TV Wall Brackets
TV Wall Mounting – including concealing cabling in wall cavity
Digital Set top boxes
LCD, LED & Plasma TV installation / TV Wall Mounting
TV Tuning Services
Extra TV points
Installation and set-up of new equipment
Installation of TV, DVD, TIVO, Apple TV, PlayStation etc…
Pre-wire / replacement / re-wire cabling
MATV Installations
Trouble shooting
Service Calls
TV Installations and Digital Antenna Sales
TV Wall Mounting from $150
We will fully install your LCD, LED or Plasma to any wall to give you optimum viewing
We install and set up DVD players, TIVO, Apple TV and Digital set top boxes
Digital Antenna Installation from $150
Digital Antenna Installations for Freeview and free digital TV
Digital Set top box set up – HDTV
We only use top quality equipment and cabling systems
Fully Made Australian Products
Troubleshooting for all viewing issues
100% Money back guarantee if you are not satisfied
Warranty
Melbourne Antenna Services is fully insured and offers a 10 year warranty on all installations – click here for warranty information.
10 year warranty on all installations
All Antennas are Digital TV ready
Products are Australian made guaranteeing quality craftsmanship
All cables are RG6 quadshield – digital ready
All accessories are digital ready
Brands & Equipment
Photo Gallery