What TV brackets should I choose?
These are examples of the 3 most popular types of brackets that are generally used for TV wall mounting.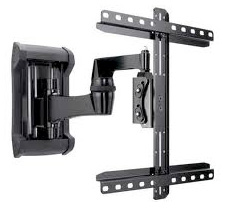 Full motion swing arm TV mount
This bracket is fully adjustable. It will move left, right, up and down and has a full range of motion.
Tilt TV bracket
This bracket can tilt down or up, however we do not really recommend using a bracket like this unless you have no other option as it can make your picture look distorted. The best way to mount a TV is at eye level when you are sitting down so not really recommended unless you are planning to mount the TV high on the wall.
Fixed TV wall mount
This basically means that it cannot move up, down, left or right and is not adjustable. This is the perfect type of bracket to use to mount your TV at eye level to give you the optimum viewing position.
Due to the various number of TV brands and sizes, we sometimes recommend when you purchase your TV that you ask what TV bracket would suit your TV and purchase it with your TV. Melbourne Antenna Services is happy to install the bracket you provide to any wall you request.
If you would prefer – we would also be happy to supply a suitable bracket and we offer expert advice on what bracket would be suitable for your TV.
Melbourne Antenna Services will take on any Installation project whether large or small.  From installing a new Digital TV Antenna to wall mounting your digital television, adding extra TV points  to large commercial jobs, we can bring you a clearer picture.
Our professional technicians are experienced in the TV Wall Mounting of LCD/LED/OLED/QLED screens. Established in 1995, we have over 20 years of experience in the business and our expert advice will guarantee the right solution for you..
Contact us to install your Plasma, LCD or LED TV today anywhere in Melbourne.